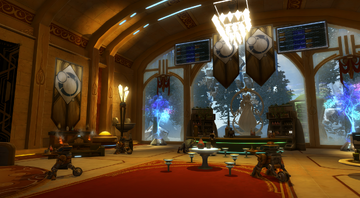 Wine & Chiss
A Cafe currently set up on the planet Amgarrak (Alderaan SH) and run by Fo'nodow.
Menu
Drinks
Alcoholic drinks:

Rattakani Tonic - A purple fruity drink, mildly intoxicating - 5 credits 
Corellian Spiced Brandy - An amber spiced brandy, intoxicating - 10 credits
Juma Juice Variations

Pink - A sweet light drink, barely intoxicating - 2 credits
Red - A spiced medium drink, mildly intoxicating - 4 credits
Black - A dark stout, Very intoxicating - 5 credits

Csillian Comet - A mixed drink of Csillian ingredients frozen and fruity, Intoxicating - 10 credits
Cantorian Whiskey - Harsh but smooth the whiskey is as clean as you get, intoxicating - 5 credits
Meiloorun Juice - A cold deep pink sweet cocktail, mildly intoxicating - 5 credits
Batuubucha Tea - An alchoholic red tea, barely intoxicating - 3 credits
Alderaanian Red - A red wine from the Keth house of Alderaan, mildly intoxicating - 10 credits
Arconian Purple - A purple wine from a small, hidden, private reserve, mildly intoxicating - 20 credits
Ithorian Gold - An expensive and rare Golden and Silver drink, intoxicating - 100 credits
Ne'tra Gal - A Mandalorian brown ale, intoxicating - 5 credits
Whyren's Reserve - A Corellian Whiskey amber colored, woody tasting, and rare enough to kill for, intoxicating - 1000 credits. (Sold only to the Emperor)
The Purple Galaxy - A set of two purple liquids, one flat the other glowing. When mixed together they create a small spiraling vortex and becomes, exceedingly intoxicating - 50 credits (Warning excessive consumption may cause a liquidation of internal organs in some species.)
Taresian Ale - A taris original brown ale that spread widely due to the ease of make, intoxicating - 5 credits
Utinni Martini - A dirty martini made from gin mixed with Hubba Gourd juice, and garnished with desert plum, intoxicating. - 10 credits
Non-alcoholic drinks
Cassius Tea - A non-alchoholic brown tea of Mandalorian origin. - 2 credits
Csillian Tea - A similar drink to the comet, the tea is fruity and cold. - 5 credits
Ansionian Tea - Is a type of tea made on Ansion. It is black, sweet, and had a distinctive tang. - 2 credits
Chandrilan tea - A common tea enjoyed throughout the galaxy. Particularly Alderaan. - 5 credits
Dagoban bentaxne berry tea - A variety of soothing berry based tea. - 3 credits
Gatalentan tea - A republic favorite that is said to be only enjoyed when shared. - 3 credits
Jeru tea - A calming tea with a syrupy texture. - 4 credits
Zsajhira berry tea - A luxury tea from the inner rim. - 10 credits.
Hot Chocolate - A delicious luxury item made from a plant on the outer rim. Served hot it's a delicacy in a drink - 5 credits
Cheese
Chandrilon Ice - A frozen sharp cheese - 5 credits
Alderaanian Ubese - A hybrid of Alderaanian and Ubese cheese that forms a crispy outer shell - 5 credits
Csillian Blue - A silvery, yet sweet cheese native to Csillia - 10 credits
Resistance cheese - A colorful platter of multiple cheeses with included fortunes. Modeled and inspired by the cheese platter used to collect the original resistance members during the Civil War. - 10 credits per platter http://www.fortunecookiemessage.com/ for your fortune.
Food
Gizka Steak - From Manaan a fatty cut of Gizka that tastes oddly like chicken - 10 credits
Magenge - A sweet fungus from an unknown sector - 2 credits
Oro Bark - Candied Alderaanian tree bark, surprisingly healthy - 1 credit
Flatcakes - A sweet breakfast food made from a sugary batter - 2 credits
Rodian Food
Galma Fruit - A sour yellow-green spiked fruit from Rodinia - 2 credits
Nilluk Strip - A succulent strip of Nilluk paired with spices from Csillia - 20 credits
Vakiir Egg - Served various ways a large simple egg - 5 credits

Mandalorian cuisine
Haarshun Bread - A simple if not nutritious flatbread - 2 credits
Gi Dumpling soup - A savory soup of meats and dough - 5 credits
'Berta Beef - a strange steak from a far away land, some say they wouldn't pay more than 20 credits for a flank. - 3 credits

Desserts
Batuu-bon - A sweet spherical chocolate cake filled with custard and topped with a chocolate disk. - 5 credits
Oi-oi puff - A raspberry cream puff with passion fruit mousse. - 10 credits
Air Cake - A fluffed dough and fruit cake designed on Correlia. - 5 credits
Tranna nougat cream - a sweet candy that was extremely difficult to make. It was favored by the rich and powerful. - 25 credits

Sandwiches
Shawda club sandwich: Made with cala cheese, gizka salami and fresh lettuce. Crisped bread or not. - 4 credits
Besh-Leth-Trill sandwich: Made with nuna bacon, revwien lettuce and topato, Crisped bread or not. - 3 credits

Breads & Spreads
Sarkanian Jelly - 1 credit
Roseberry jam - 1 credit
Nut butter - 4 credits
Bluefruit jam - 5 credits

Breads
Airpuffed flatbread - 2 credits
Blumfruit bread - 3 credits
Cuanut bread - 2 credits
Five Blossom bread - 10 credits

Fruits

Muja Fruit: A reddish brown fruit used to make Muja Juice. Tart and light. - 2 credits
Blumfruit: A small red berrylike fruit used to make Blum-muffins. Sweet. - 3 credits
Shuura: Yellow and cream colored. Juicy and sweet it is used to make sauce. - 5 credits
Meiloorun fruit: A fruit with a dark brown rind and a pink inner flesh.  - 3 credits
Rules
No Fighting inside the Cafe
No helmets or re-breathers unless medically required
No slamming glasses (Unless a drinking game has started.)
No tips
No harassing the staff
Cafe owner's word is law inside the Cafe
No stealing
Outside food and drink by request for special events
No weapons within the Cafe
Titles are Faux-pas
Community content is available under
CC-BY-SA
unless otherwise noted.