What is the SR-Version II?
SR-Version II stands for Simulation Room Version Two, Re-programmed and Re-Located from the former disavowed 109th Special Operations Winged Division.
Our Goals With This Simulation Room are to train our forces in every combat situation weather it be against the republic, Empire, or even ourselves.
With that there is a case of "Objectives" "Eliminations" "Assassination Targets" and much more available during these sessions.
With the salvaged Remains of the original SR (simulation room) We hope to bring about a change in which every member who participates learns more and becomes more "Able" on the battlefield to ensure victory for the Imperium.
We will not mention the names of those who betrayed the Imperium for their deaths were of no Honor and are to be remembered as such.
Introduction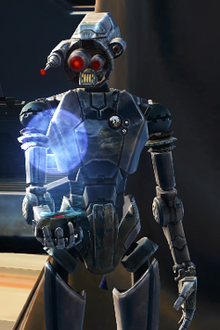 "Greetings I am SD-97 responsible for ensuring all participants inside these simulations are properly geared and able for these Simulations to take place,
My masters have given me all of the knowledge of every possibly battle even some of our most honorable warriors of the Imperium that have served our glorious emperor in combat and died for him
We have set environments and mappings of our locations to bring the feeling of real combat to life,
If you are to preform a simulation with your desired team please request one from the High Council or any supervisors at the S.O.O.C (Simulations Of Operations Command) for approval of your team or yourself so that way we can ensure the Simulation takes place.
Please ensure that you are all properly geared and ready for the following simulations, good luck and may you fight in the Emperor's name and his glory and may the force serve us all, so say we all"
Please List Available Locations Below For Simulation Tests (GM/HC)
Community content is available under
CC-BY-SA
unless otherwise noted.