Ada Eliasara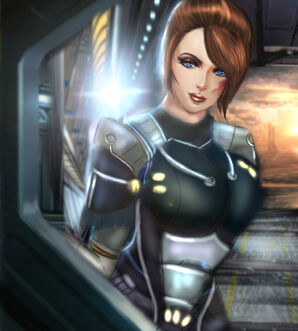 Age: 27     
Height: 5'5
Weight: 156 lbs.
Affiliation: Sith imperium/109th Special Operations Wing
Rank: Commodore/Leader of 109th SOW
Family: Unknown
S/O: Straight/Unknown
Sex: Female
Allies: Grand Moff Sefran Roderick, XO Salkoro, Commander Quelara, Moff Ruu'san Kaldar, Company Commander Capella, Teldann, Si'alla, Hadzuska
Background
Ada Eliasara was born as an Orphan of the Empire, as her mother and father died during her birth thanks to a band of slavers. 
For over seventeen years of her life she was raised as a slave until a Mandalorian whos ename was yet to be revealed saved her and raised her for a good few months before being killed by a Sith Lord. This "Sith" Lord actually was the one responsible for her scar across Eli's Eye.
Years would pass as Eli was forced into a relationwhip witht his sith at the age of 21 she finally broke free and killed him hiding his body as the Imperial's came they were to place her on trial, she was given a chance to redeem herself within a squadron of fighter pilots caleld the "Skull Squadron"
With the following months she was very well respected with her bomber tactics, but during a routine mission her entire squad was ambushed by Republic forces as she was left alone to survive when she returned she went into exile avoiding being spotted by any Imperials. That is when she encountered the Imperium.
Formation Of The 109th
With Ada's experience within her piloting and combat skills Grand Moff Sefran took interest with her as he offered her to become a leader of a Division called the "One Hundred and Ninth Special Operations Winged Division" Which would be for the Imperium Military's finest and also carrying out their missions very fast. With this Ada accepted as she began to find allies wanting to join in. 
The 109th became a very well organized Division for the Imperium Military as it still grows to this day.
With this also came a strong effections built toward the Grand Moff though she is afraid to show them to him. she was still pretty young then.
Community content is available under
CC-BY-SA
unless otherwise noted.